Tracking Atlassian Confluence usage with Google Analytics
by David.
Average Reading Time: about 2 minutes.
Updated 2011-06-30: Changed to asynchronous Google Analytics tracking
You've chosen Confluence as your Enterprise wiki and got it installed. People are using it. But how many people?
You could have a look at the Global Activity page on Confluence, but this might confuse matters.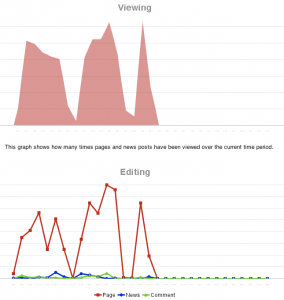 You'll get to see graphs, but what do they really mean? The Global Activity statistics are at best very basic.
Better still, install Google Analytics and you'll have a much more accurate idea of what's going on. Best of all, it's really easy to install.

How to install Google Analytics on Confluence
I'm assuming (for my sake) that you already know your way around Google Analytics.
In Google Analytics
Login to Google Analytics and add a new website profile
The settings will roughly mirror those in the screenshot below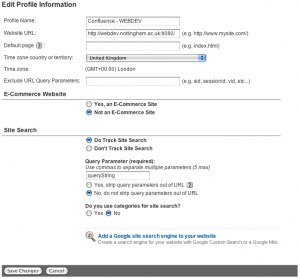 Make sure that you check "Do Track Site Search" against Site Search. Add queryString as the Query Parameter. This will allow you to monitor who is searching for what.
Update (2009-11-12)
Edit the Search Settings configuration like in the image to see search terms grouped by spaceKey in the internal search categories reports. Further details why can be seen here
The top search terms will suggest either content that's missing from the site, or something that is not easily found in the current information architecture. Either way, tracking this and acting on the findings should improve the user experience.
In Confluence
Login to Confluence as an administrator and add the GA tracking javascript code to the end of the page body…
Navigate to:
Dashboard | Administration | Look and Feel | Custom HTML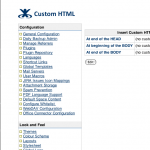 Click on the "Edit" button and add the javascript sample (with your tracker code) to the "At end of the HEAD" section: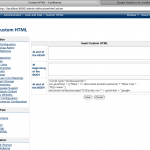 <script type="text/javascript">
  // See: http://davidsimpson.me/2009/03/18/tracking-atlassian-confluence-usage-with-google-analytics/
  // Put this in Confluence Administration | Look and Feel | Custom HTML -- "At end of the HEAD"

  var _gaq = _gaq || [];
  _gaq.push(['_setAccount', 'UA-XXXX-XX']); // Your GA code here
  _gaq.push(['_trackPageview']);

  // Add a page-level custom variable to record the space-key
  if (typeof jQuery('meta[name=confluence-space-key]').attr("content") == 'string') {
    _gaq.push(['_setCustomVar',
      1,                        // This custom var is set to slot #1 of 5
      'confluence-space-key',   // The name acts as a kind of category for the user activity
      jQuery('meta[name=confluence-space-key]').attr("content"),  // This value of the custom variable
      3                         // Sets the scope to page-level
    ]);
  }

  (function() {
    var ga = document.createElement('script'); ga.type = 'text/javascript'; ga.async = true;
    ga.src = ('https:' == document.location.protocol ? 'https://ssl' : 'http://www') + '.google-analytics.com/ga.js';
    var s = document.getElementsByTagName('script')[0]; s.parentNode.insertBefore(ga, s);
  })();

</script>

Results
This works nicely, particularly as the custom variable allows us to easily track all space related content separately, and thus facilitate the use of the (Google) Analytics reporting plugin for Confluence.
Screenshot of Content by Title report: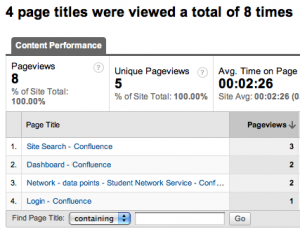 Screenshot of Site Search Terms report: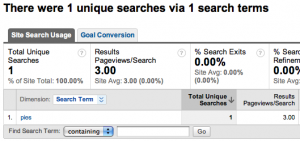 Related Posts (Updated)